*** All of our classes are "All Levels" classes ***
Hatha Yoga: Classic yoga postures (asanas) that move with your breath to help you reduce stress and increase strength and flexibility. These classes are approximately 50% stretching poses and 50% strengthening and toning poses, all combined with proper breathing and grounding techniques. A flexible body is a youthful body!
Hatha Yoga II: Hatha Yoga II will build on the postures from the Hatha Yoga classes. Beginner variations through to advanced variations will be given. Flows will be a little more challenging to help take your practice to the next level.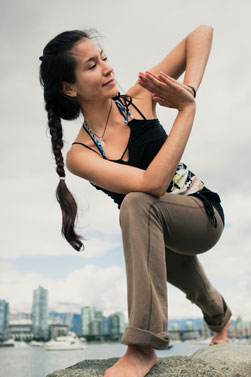 Power Flow: In this fast paced flowing class, strength, flexibility and stamina are all emphasized. This is a vigorous style of yoga that combines Power Yoga and strong Hatha Yoga flows and postures (asanas). Be prepared to sweat!
Pilates:  A dynamic workout that focuses on flattening the tummy and toning and strengthening the entire body.  It will help to isolate, activate and condition deep core muscles, increase flexibility and improve body mechanics, awareness and posture.  It will also help to alleviate stress and tension and will aid in improving back pain.  Challenging and lots of fun!
Belly, Buns & Thighs Yoga: This energetic yoga class will define and sculpt your abs and lower body. Create tight, toned shapely buns and thighs and a firm and strong core. You will burn fat, detoxify your system and acquire greater fitness and flexibility in both mind and in body.
Candlelight Hatha Yoga:  Our Candlelight Hatha Yoga classes are a gentler version of our traditional Hatha Yoga classes.  The lights are dimmed.  The room is filled with candles creating a very calming and relaxing atmosphere.  The class will focus on the traditional Hatha Yoga postures but will have an emphasis more on the relaxing and restorative poses helping you to melt away your long day.
Bliss Nights:  Once every month we offer this special class.  Please check the schedule to find out the date for this month.  Come to the Studio (in the Royal Centre Mall) for a 2 hour blissful evening of Gentle, Yin and Restorative Yoga combined with Indian Head Massage, foot massages and back and shoulder massages.  Both Sunny and Alexandra will be guiding you through a relaxing Yoga class to help you become very calm and de-stress.  You will receive massages by both teachers throughout your 2 hour Yoga practice, each student receiving individual special attention.  Tea and cookies will be served after the class.
Yamuna Body Rolling:  Using different sized inflated balls, we roll them along the body to increase flexibility, improve blood circulation through fascia and muscles, break down scar tissue and relax the body.  The balls allow you to get in and around the joints to help separate the bones, lengthen muscles and separate each vertebra in the back body, creating space in the entire body.  This helps the body, bones and muscles move back to their original positions.  This in turn helps to  reduce stiffness and pain.
Karma Hatha Yoga:  Our drop-in Karma Hatha Yoga classes are "By Donation" yoga classes that are open to the public.  Pay whatever you would like to pay for these classes.  All donations will be given to Night Owl Bird Hospital (http://nightowlbirdhospital.ca/).  These classes are Hatha Yoga classes and are for all levels of students.  Please come and join us to meet some of Vancouver's newer Yoga teachers.  Pre-registration not required.
Yoga Events/Parties:  We can bring Yoga to your special event or party!  We want to help make your next event unforgettable be it a wedding, adult or children's birthday party, baby shower or corporate event.  In addition to making your next event memorable, we will provides a fun and safe atmosphere for you to bond with friends, family and coworkers. These events can take place in the comfort of your home, our studio, or even onsite at a wedding or place of business. We are flexible and available at your convenience.  We're here to provide a healthy, unique alternative to your standard  event. Our classes and events will leave you and your guests with a feeling of happiness, a sense of calm and overall well-being.