Vancouver Corporate Yoga Programs are specifically tailored to your organization. Our teachers will lead customized classes suited to the levels of your employees. All of our teachers are qualified and certified Yoga Professionals.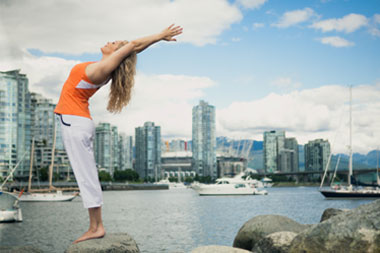 Yoga for Conferences & Corporate Events:  During a long day in the conference room, with heavy concentration, your delegates will need to clear their minds and keep their energy levels high and focused.  Our short 15 minute Mini Yoga Breaks or our longer Yoga classes are designed to motivate and stimulate attendees leaving them with a feeling of well being, a clear head and open to new ideas.
        Mini Yoga Breaks:
Our 15 minute Mini Yoga Breaks (chair and standing Yoga) are a great pick-me-up to help rejuvenate your mind and body.
Business attire is suitable for the class.
Relieves neck and shoulder tension, back pain and tight hips.
Transforms fatigue to alertness, stamina and greater productivity.
Boosts concentration to more effectively absorb the material being presented.
Also available are 30 to 90 minute mat or chair Yoga class in the morning, mid-day or post conference.
Click Here for our Promotional Conference Postcard
Hatha Yoga: Classic yoga postures (asanas) that move with your breath to help you reduce stress and increase strength and flexibility. These classes are approximately 50% stretching poses and 50% strengthening and toning poses, all combined with proper breathing and grounding techniques. A flexible body is a youthful body!  This is our most popular class and they usually range from 45 to 60 minutes.
Hatha Yoga II: Hatha Yoga II will build on the postures from the Hatha Yoga classes. Beginner variations through to advanced variations will be given. Flows will be a little more challenging to help take your practice to the next level.
Belly, Buns & Thighs Yoga: This energetic yoga class will define and sculpt your abs and lower body. Create tight, toned shapely buns and thighs and a firm and strong core. You will burn fat, detoxify your system and acquire greater fitness and flexibility in both mind and in body.
Candlelight Hatha Yoga:  Our Candlelight Hatha Yoga classes are a gentler version of our traditional Hatha Yoga classes.  The lights are dimmed.  The room is filled with candles creating a very calming and relaxing atmosphere.  The class will focus on the traditional Hatha Yoga postures but will have an emphasis more on the relaxing and restorative poses helping you to melt away your long day.
Kick Start Yoga: Stretch, strengthen and breathe into a stress-less week!! An active Hatha Flow class for all levels. Classes will include "no-sweat" variations of movement/postures for beginners to advanced. Find your blissful tone for the week!!!
Chair Yoga:  Chair Yoga is for everybody!  This can be performed at home or at your desk anytime.  Chair Yoga is also great to do at your next business conference.  This type of Yoga helps to relieve neck and shoulder tension, back pain, tension headaches, etc., and is a great pick-me-up to help rejuvenate your mind and body.
Restorative Yoga:  This class will leave you feeling refreshed and relaxed.  Props will be used to support your body in long held reclining positions to stretch and relax the whole body.  A special emphasis will be made on chest opening, stretching the hips, and releasing tension from the neck and shoulders to counter-act the stress held in the body from the daily office grind. Unwind in a nurturing, comfortable, safe environment. Students of all abilities and levels of fitness and flexibility are respected, encouraged and welcome to come and let go of their tension.  A perfect compliment to a more active practice, or for those that just want a slower, deeper, meditative pace.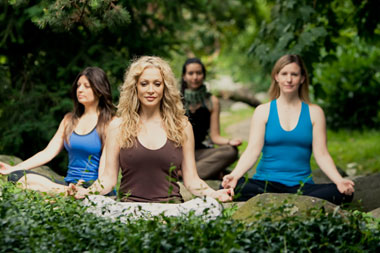 Yin Yoga:  In Yin Yoga the poses are held for several minutes at a time in order to the stretch the connective tissues around the joints.  It encourages long held floor poses to enhance energy distribution through the Yin parts of the body, namely the bones and connective tissues that bind them. This style of practice, done slowly and safely, nourishes the natural range of motion of the joints, which allows for more ease throughout the entire body.
Gentle Flow:  This class takes a gentler approach to the traditional Power Flow style, focusing on healing the body and mind through a connection with the breath and mindful movements to reduce tension and increase energy.  This is a practice of gentle flowing postures that will warm and open the body, encourage internal health and quiet the mind. Postures can be modified for any level. Suited for beginners and experienced  students.
Power Flow: In this fast paced flowing class, strength, flexibility and stamina are all emphasized. This is a vigorous style of yoga that combines Power Yoga and strong Hatha Yoga flows and postures (asanas). Be prepared to sweat!
Men's Only Yoga:  Gentlemen, are you looking to limber up those hips, hamstrings, shoulders and spine?  Don't want to be in a class where the women all seem more proficient?  If that is you, why not begin with Yoga For Inflexible Guys classes that  will familiarize you with some basic postures and give you confidence.  This yoga program aimed at men includes traditional yoga asana, deep core work, breathing techniques as well as additional variations of squats and push-ups.  People often think you have to be flexible already to start doing yoga.  This is not the case. With this class, anyone, no matter how stiff, can begin to practice yoga. Instructions are tailored to those with tight hamstrings and shoulders, in a short sequence that is safe to practice anytime. Also a great sequence for athletes from other sports wanting to cross-train with yoga to create a supple body.  You will feel more flexible, relaxed, more in control of your body. Yoga For Inflexible Guys is a great way for a man to start practicing yoga  to stay healthy, young, balanced and prevent injuries.
Yoga for Golfers:  Yoga for Golfers connects the mind and body to create a powerful training regimen geared towards increasing flexibility and strength for distance and accuracy off the tee, enhanced breathing awareness for a better swing tempo and improved overall fitness.
All Yoga for Golfers Classes Will Include:
Specifically selected postures to meet golfers' needs.
Proper breathing techniques for better tempo in your swing.
Visualization methods taught to help increase success on and off the    golf course.
Stretches that increase flexibility, strength, balance and help to reduce   the risk of injury.
Pre Round, On the Course and Post golf yoga sequences.
Intensive core conditioning.
Upper Back Releasing with BackMitra (A dense foam rubber strip, which is used along your spinal column creating profound release into gravity allowing muscular tension to melt away.)
This unique and integrated Yoga for Golfers classes will provide golfers with effective instruction on how to improve flexibility, range of motion and concentration on the course.
Yogalates: The best of both Yoga and Pilates! We will combine the core strengthening, alignment and posture focus of Pilates mat work with the gentle stretches and release work of Hatha Yoga. Stretching and releasing what is tight (locked short) is a pre-requisite to strengthening and toning what is weak (locked long). These practices are mutually compatible and when blended can flow together in a balanced and well rounded class. The stretching allows for "letting go" and the strengthening brings in core support for postural awareness. A combination of held/static poses and more dynamic/flowing movements will provide the body with a cross-training approach. Come and join in!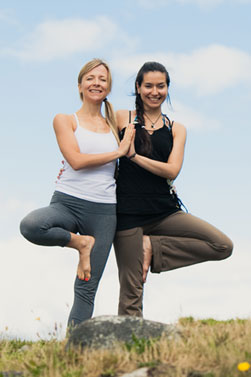 Pilates: A dynamic workout that focuses on flattening the tummy and toning and strengthening the entire body.  It will help to isolate, activate and condition deep core muscles, increase flexibility and improve body mechanics, awareness and posture.  It will also help to alleviate stress and tension and will aid in improving back pain.  Challenging and lots of fun!
Advanced Pilates:  If you have been doing Pilates for more than 6 months you are ready for this class.  You know the breathing, what is a spinal neutral, legs in table top and you have movement control.  To make sure about your Pilates level, an advanced student is able to do "the hundred" with legs straight forward, "the half or full roll back" with NO hands helping behind thighs, "full plank" for at least 40 seconds non stop and "the short spine stretch or roll over" controlled while rolling back.  You can ask your instructor if you are ready for this class.  At this class we are going to spend more time doing the exercises than explaining details about them, we will do more advanced positions and of course burn more calories.  All athletes and advanced yoga students are welcome.
Yoga & Meditation: Learn to Meditate And Practice Yoga!  Did you know that 99% of stress starts in our mind and then manifests in our body?  This class will have you stress free like no other—as we address the mind through simple meditation techniques, and the body through a hatha-style flow. This class is specifically designed to teach you key meditation practices in a bite-size way so that you get the benefits of meditation without feeling overwhelmed from a long practice. Each class begins with about 10 minutes of Meditation where you will learn easy techniques to meditate. Then you will reap the benefits of de-stressing your physical body with a combination of strengthening and relaxing postures, and each class ends with a meditation to center your mind, and leave you feeling peaceful and blissful.  This class is great for beginners who want to learn to meditate, and it is great for people looking to strengthen their current meditation practice.  The class is facilitated by Tova Payne, the Author of Learn to Meditate (available on Amazon).  She will send you this e-book free as your bonus upon registration! She has also been teaching Yoga and has led Teacher Trainings since 2006.
Yoga & Nutrition:  Starting with 5-10 minutes of mindfulness practices and techniques to help you manage the day-to-day stress in your life. Learn how to become more aware of your reactions so that you can have a better hold in how you manage your life, especially the unexpected challenges in your life.  We spend about 30-40 minutes practicing physical poses, where you continue to integrate the mindfulness to help you clear your mind as you strengthen your body and release the tension that you are feeling. The class is always a little different, focusing on a different area each week. Although we focus on a particular area week by week, still expect an over-all integrated workout which will help your whole body feel alive!  We then spend about 20-30 minutes discussing an Integral Nutritional Key regarding your health & wellness. Topics include but are not limited to:
Whole Foods Nutrition: Understanding why choosing whole foods is integral to your overall health and can prevent weight- gain
Let's Learn About Fats: The Great, the good & the bad! You won't just be told what to avoid, you will gain a deeper understanding of why. Understand the fats that have healing benefits and can help beautify your hair, skin & nails, and which fats are the leading cause of heart disease and general fatigue.
Understanding Carbs: Understand the difference between beneficial carbohydrates and how they help energize you for your day, versus the carbs that drain your energy and are a leading factor in diabetes.
How Much Protein Do I Need? Where do I get my protein and what are the best sources? Learn how there are a variety of sources to good quality protein, as well, as understanding which foods have protein that you may have not even realised are actually very high in protein!
Returning To Wholeness: Nourishing ourselves with food, and understanding the balance and yoga of nutrition.
Yoga for Plus Size Women:  This series of classes allows women, no matter what their size, to enjoy all of the benefits of Yoga. You will learn to perform Yoga poses by modifying traditional Yoga poses with props and safe variations.  Yoga for Plus Size Women will provide flexible movements and will give you the experience of the mind-body connection that Yoga offers with special attention to the comfort of each student.  Women of all sizes can have success with Yoga in this safe and non-intimidating environment.  These slow paced classes will offer many deep and relaxing stretches to open the body safely and comfortably.  As well, we will do some work slowly strengthening and toning the muscles, which will in turn, keep your body burning calories throughout the rest of the evening.  This combination of both the Yin and the Yang aspects of Yoga will leave you feeling calm and energized at the same time.  Practicing Yoga can be one of the most enjoyable and rewarding ways for plus size women to become healthy and build confidence and self-esteem. Yoga for Plus Size Women can help with our welcoming and fun attitude to ease you into the transition to better health.
Zumba: Our Zumba classes are an exhilarating, effective, easy-to-follow, Latin-inspired, calorie-burning dance party.  Zumba classes feature exotic rhythms that are set to high-energy Latin and international beats. Before students know it, they're getting fit and their energy levels are soaring! It's easy to do, effective and so much fun!
Belly Dancing:  Our Belly Dancing classes are both challenging and fun.  A beginner finds herself holding her body in ways she hadn't before, using muscles she didn't know existed, challenging her body in new and beautiful ways.  Belly Dancing is a form of performing art, with its graceful hip movements, rolls, and leg and arm movements.  The dance allows you to utilize muscle groups in the stomach, pelvis, arms, neck and spine  allowing you to work with the body building strength and confidence.
Planning a Personal Yoga Practice / Your Body, Your Practice:  One size does not fit all.  Learning the basic structure and parameters of a Yoga class allows you to personalize and vary the length, content, focus, and training goals of your day-to-day Practice.  This 2 hour workshop introduces students to the general principles and construction of a Hatha Yoga Practice, what design components must be included, breathing, pacing, asana (pose) selection, order, timing, and meditation.  Each student will develop their own set of goals and at least one personalized practice routine to take home with them.
Back Relieving Hatha Yoga:  This Back Relieving Hatha Yoga class will focus on releasing back stiffness, tension and pain. In this Gentle Hatha & Restorative based yoga class you will use, the BackMitra prop. Mitra is Sankrit for "friend".  This prop is a Back Releasing dense foam rubber strip, which is used along your spinal column in various yoga poses to create profound release into gravity allowing your muscular tension to melt away. Throughout the class other supportive props will be used to ease the body, mind & breath into a deeper sense of peace, calm and well being.  Come and enjoy this fun class and leave feeling taller and re-vitalized throughout your back!!
Self Defense Class:  by Hit & Run Self Defense – Hit and Run Self Defense provides the most practical self defense solutions for women, men and kids of all ages and sizes. Learn efficient, street-oriented techniques that do not depend on size or strength, while also developing your verbal and avoidance skills.  This class will show you the no nonsense, egoless and practical physical defense moves required for women, children and men to live a safe and happy life. It is about taking responsibility for the safety of yourself and your family by adopting simple practices into your daily routine that will greatly lower your risk of an encounter. This class will also teach you how to summon your inner strength in a hostile situation and give you the tools to verbally diffuse or physically address an attacker. Their street safety instructors James & Louisa with over 25 years experience, have black Belts in multiple disciplines and will show you how to defend or prevent a serious attack. You and your family deserve to be confident, feel safe and live a happy life. Regardless of your size, age, fitness level, or gender, there are options available for you to avoid being a victim.  This is not a martial arts class.  This class is for all ages and fitness ability.  Some of the strategies you will learn in this empowering 2.5 hour workshop will be:
Life saving self defense from standing and ground
Street smart avoidance and prevention
How to make fear/adrenaline an advantage
Learn what criminals don't want you to know!
Improvised weapons
Key targets and your body arsenal
Effective release/escape methods
Cardio Pilates:  Get your heart pumping in this dynamic, energetic, and FUN class. High intensity bursts of cardio with moments of rest, designed to burn fat and tone your entire body.  Combining aerobic interval training with Pilates core exercises is an efficient workout guaranteed to show results.
Cardio Core:  This fusion class utilizes multiple movement modalities including yoga, Pilates, calisthenics, dance, and HIIT (high intensity interval training) to increase cardiovascular fitness, tone and stabilize the muscles of the core and improve mobility and flexibility. Set to an upbeat soundtrack, this class challenges the body in new and unique ways while working up a sweat and having a great time!
Super Stretch:  This class is the ultimate sweet release, a perfect adjunct to the dynamic and vigorous style of class that precedes it.  Switch off muscular control and turn on full body relaxation as we dive deep into shapes designed to stretch both muscles and connective tissue, safely mobilize joints, and activate the Parasympathetic Nervous System (PNS – the "Rest" system). This class will incorporate yin and restorative yoga as well as yoga nidra (yogic sleep) for the ultimate restful indulgence.
Yamuna Body Rolling:  Using different sized inflated balls, we roll them along the body to increase flexibility, improve blood circulation through fascia and muscles, break down scar tissue and relax the body.  The balls allow you to get in and around the joints to help separate the bones, lengthen muscles and separate each vertebra in the back body, creating space in the entire body.  This helps the body, bones and muscles move back to their original positions.  This in turn helps to  reduce stiffness and pain.
Yoga Events/Parties:  We can bring Yoga to your special event or party!  We want to help make your next event unforgettable be it a wedding, adult or children's birthday party, baby shower or corporate event.  In addition to making your next event memorable, we will provides a fun and safe atmosphere for you to bond with friends, family and coworkers. These events can take place in the comfort of your home, our studio, or even onsite at a wedding or place of business. We are flexible and available at your convenience.  We're here to provide a healthy, unique alternative to your standard  event. Our classes and events will leave you and your guests with a feeling of happiness, a sense of calm and overall well-being.
Private Classes:  Vancouver Corporate Yoga offers private one-to-one classes for the individual seeking personalized instruction, tailored to meet your specific needs.
Yoga for Weddings:  We can help ease some of the stress that comes along with planning a wedding.  Gather your wedding party, your friends and family or as many guests as you'd like. The Yoga classes can take place in halls, churches, your home, our studio, or even outdoor locations. We can work around your busy schedule so any day and time will work for us too.  Our Yoga classes will have everyone feeling blissful and relaxed to enjoy this momentous occasion.
Wedding Yoga for Family & Friends
Yoga at your Bachelorette Party
Yoga at your Bridal Shower
Bride to Be Private Yoga classes
Click Here for our Promotional Wedding Postcard
Vancouver Corporate Yoga Program options:
Classes are offered in the morning, lunch hour or after work or any other time of day that works for your office.
Classes can be held weekly, bi-weekly or even more often or less often.
One time classes for special events, conferences, etc. can be booked.
Length of classes generally range from 15 min to 90 min.
Corporate Programs mostly range from 8 to 12 weeks but you can choose longer or shorter sessions to suit your needs.
Great for all ages, fitness levels and body types.
Available for groups of any size.
All of our classes are "All Levels" classes.
The company must provide a warm and open space that is suitable for the Yoga or Pilates class: boardrooms, large offices and rooftop decks are all popular choices.