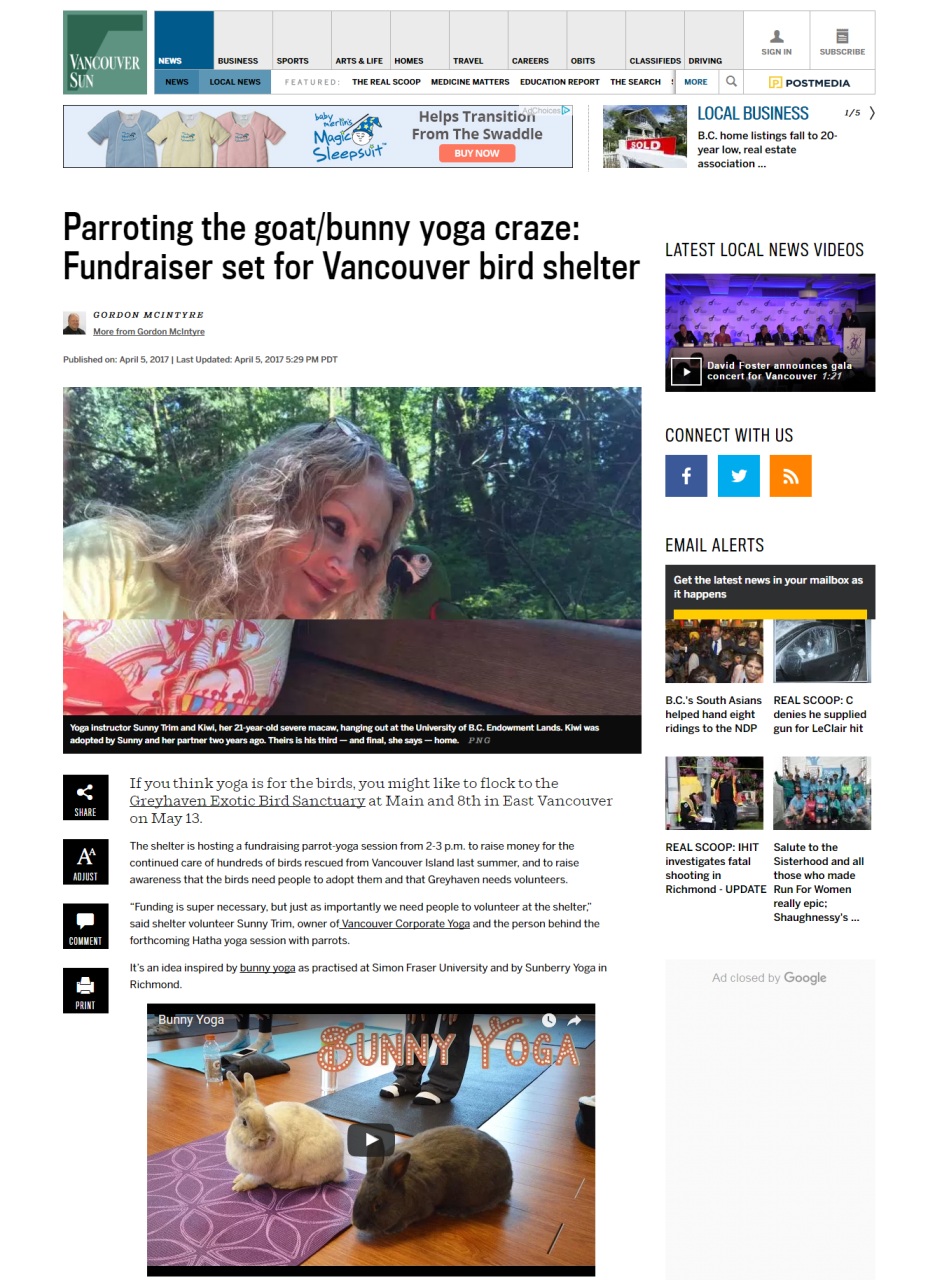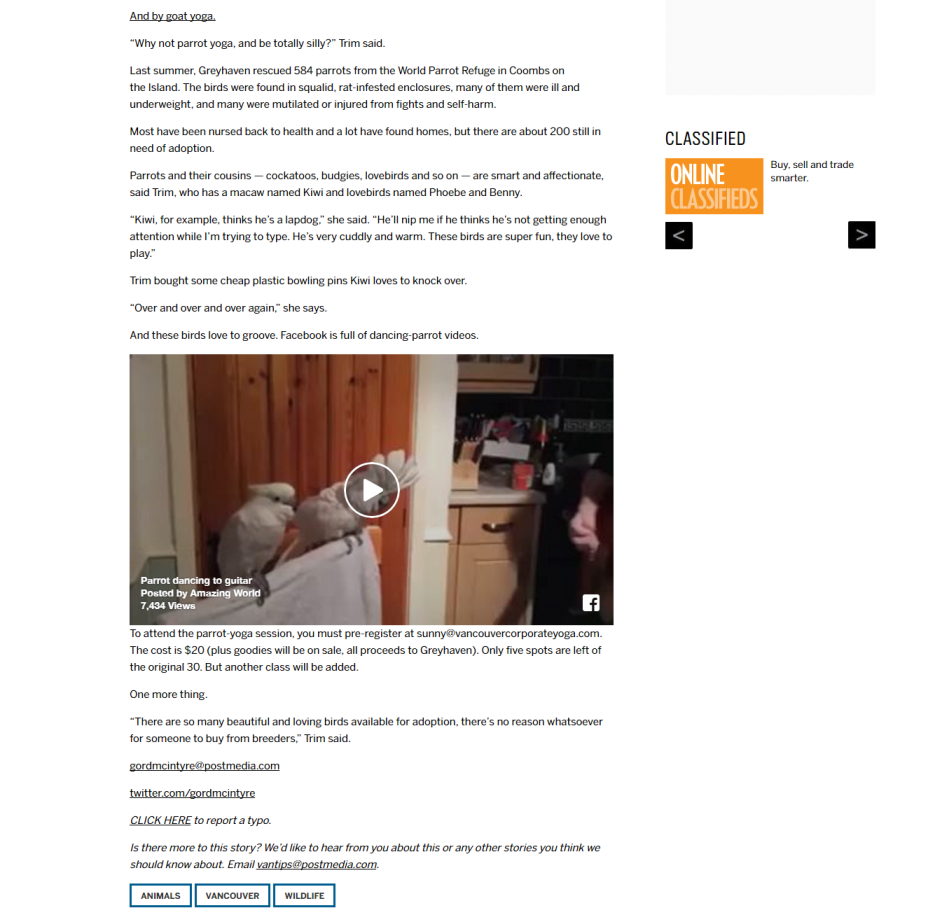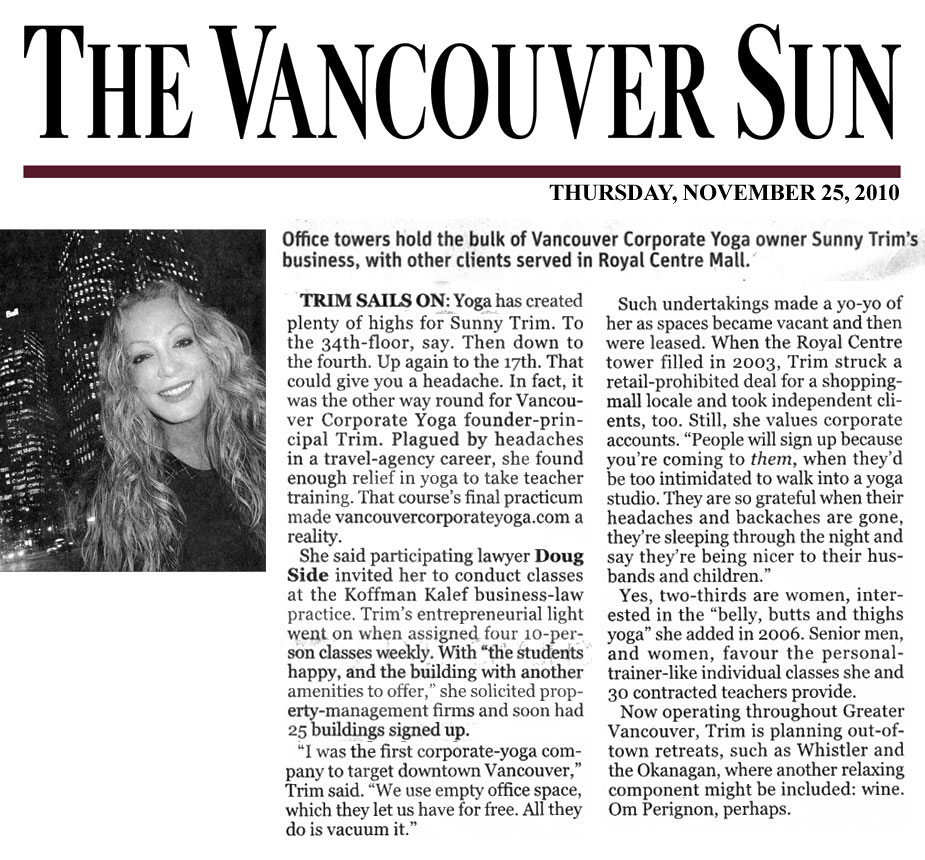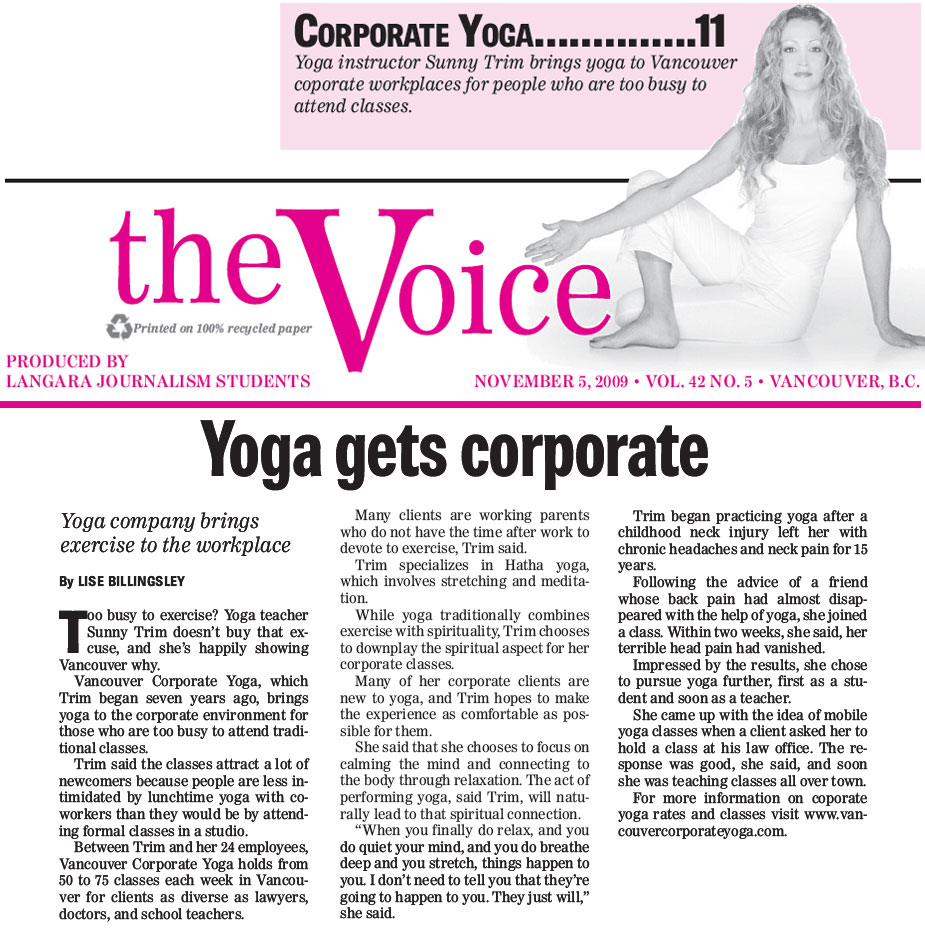 FOR LOVE OR MONEY by Chad Hershler – Contributing Writer
Louie Ettling wanted to move her body better. She turned to yoga.
"I was in my late 20s," she says. "I was stiff."
Ettling started taking an Iyengar yoga class once a week at the False Creek Community Centre, and was soon hooked. Twenty years later, she's running her own Iyengar yoga studio (The Yoga Space) and teaching more than 12 classes a week at scattered locations around the Lower Mainland. Short, with long brown hair, wide playful eyes and a confident demeanor, Ettling is clearly a woman born to be a teacher.
At the restaurant where we've met for drinks, we run into two students who gush over how much Ettling has helped them with their own yoga practice. One, a recent surgery patient, credits Ettling with the kind of pain relief attributed to chiropractors or massage therapists. Ettling, embarrassed by the kudos, credits the depth and discipline of her Iyengar training for such success. "In Iyengar, you're already a mature student when you enter the teacher training program." Ettling studied Iyengar for eight years before deciding to become a teacher, a decision which then took her three years to complete, including a trip to India to study with Yogacharya B.K.S. Iyengar, the founder of the form.
But given her reputation, her thorough training, and her steady practice, does Ettling feel she makes enough money for her hard work? She pauses to consider the question.
"That's a difficult one. It relates to one's whole approach to life: why did you become a yoga teacher? I didn't become one to make money. I wanted to live my life; sustain myself."
Her attitude is shared by many Vancouver yoga instructors-young, old, Iyengar or not. For them, yoga is a practice, even an art form, which requires dedication to a certain kind of lifestyle,. The lifestyle itself is considered to be the greatest benefit dedicated yoga teachers receive for their work. But despite yoga's popularity, with thousands of students in Vancouver, most yoga instructors barely make ends meet. And yet they say they're content, leading to an important question: Can a yoga teacher truly be happy with a flexible back, an open mind, full classes and an empty fridge?
They say yes.
Mark Paulse, relatively new to the yoga scene, teaches 10 classes a week at a Bikram's studio. He made the switch from what he calls an "assembly line job-monetarily rewarding but not satisfying"-to teaching yoga just over three years ago. He quit his job, spent $5,000 on the five-week training program that Bikram Choudhury runs out of his studio in L.A., and now teaches at Bikram's on Commercial Drive full time.
"It's just three hours a day with no boss hanging over you. I have the freedom to travel. The lifestyle makes up for the lack of money."
The "lack of money," according to Paulse, is a fact of life for Bikram teachers. The teachers, many of whom are also actors, writers, artists and athletes, are accustomed to yoga's cyclical seasonal employment. Bikram classes are held in hot, sweaty rooms, and the average teacher can only sustain three to four-and-a-half hours of that environment a day. There's also only so much money people are willing to pay. The challenge, Paulse says, not only for the teachers but for the studio owners, is to get the general public to understand that those in the "business of yoga" also need to generate an income.
"People did yoga in their homes for free in the '70s, there's this lingering sense that yoga just isn't a business… It's a struggle all around to keep things afloat."
While yoga teachers like Paulse and Ettling may benefit from their enhanced lifestyles, their bills, rent, travel costs, training fees and food must still be paid. Does the yoga industry run on a consumer-driven form of low-wage control for its front-line workers?
Wade Imre Morissette doesn't think so. He's been a yoga teacher in Vancouver for 12 years, during seven of which, he claims, he's made a decent living. "There's a myth out there that you can't make money teaching yoga and some teachers believe that. It takes gradual steps. As you grow, you see lots of opportunities; ways to give your name a higher profile."
His recent partnership with the Vancouver-based clothing chain Lululemon has brought his unique style of yoga to the international market place. His Lululemon-sponsored "Yoga Pilgrimage" has already travelled to cities such as Tokyo, Maui, Los Angeles, Hong Kong, Chicago and New York.
"You see where your passion lies and, from that platform, you market yourself; network yourself to studios or retreat centres. In my paradigm, I make a lot of money teaching yoga."
With a CD of his chanting for sale, a webpage, an "ambassadorship" at Lululemon, a book in the works and teaching workshops planned alongside Deepak Chopra, Morissette is establishing a successful career within the international business of yoga. But Morissette only has to look across the family dinner table for help combining his personal passions with the world of commerce. As the twin brother of rock star Alanis Morissette, he's a lot closer to the marketing machine than most.
"I've gotten a lot of press, first interest, because I'm the brother of Alanis, and I'll take it," Morissette says. "I'm not for or against it. I just never bring it up on my own."
Although Morissette feels strongly that his success in yoga hinges on the passion, "the fire," he brings to his classes, his links to the corporate world bring up interesting questions about how yoga, its teachings, wisdom and practice, is adapting to the modern commercial world of buy and sell.
Lululemon, Morrisette's sponsorship partner, started out as one store on West Fourth Avenue, designing and selling yoga products for women. Now, with 24 stores world wide (including stores in Tokyo, Melbourne and four more in the U.S.), $40 million in sales, and plans for 13 more stores to open in the next nine months, Lululemon has established itself as an international leader in the manufacturing, distributing and selling of yoga apparel. According to company spokesperson Eric Peterson, however, Lululemon's stores aren't just selling slick T-shirts and funky yoga mats for the yoga-converted. They provide customers with "the means to a happy, healthy lifestyle."
"We want to educate the world about their personal potential-mentally, physically and spiritually."
The company's "educators" (Lululemon-speak for "sales staff") are paid a better than average retail wage, starting at $10 an hour, and provided with free yoga and self-improvement courses as an encouragement to their own personal growth and development.
"We're not just out to open storefronts. We want to know that communities want to embrace what we offer."
Peterson insists that, despite Lululemon's projected expansion plans of 200 storefronts internationally by 2010, the company's growth will only happen "organically."
Which begs the question: is it possible that a yoga apparel company can grow organically in the ruthlessly inorganic global marketplace? Is it possible for a yoga studio to grow organically in the competitive Vancouver marketplace? And what exactly does "growing organically" mean?
For Ettling, the answer is simple. There is a distinction between people practicing straightforward business, such as franchising, and her "practice" of yoga.
"What I've seen is that for Iyengar yoga in this city, the focus is not 'development of franchise,' the focus is rather 'development of yoga practice' and bringing yoga to people in a way that's enhancing to their lives."
But how different is that attitude to the corporate ethos of Lululemon-an ethos that claims not to be selling products, but to be selling a "lifestyle"? Has the corporate world simply caught on to one of yoga's most sellable features, and taken that to the bank?
Not entirely, even in the heart of Vancouver's corporate district.
On the retail level of the RBC building at Georgia and Burrard, Sunny Trim (the yoga name to end all yoga names) runs a small yoga studio called Vancouver Corporate Yoga. The space, an abandoned retail store re-lit and draped in New-Age art, is small only because the majority of Vancouver Corporate Yoga's classes take place out of studio, usually on the client's property. Its clients include hotel guests, ESL students, bankers and a wide assortment of local businesses that have caught on, as Trim puts it, to the "benefits of their employees being healthy and happy."
With a teacher list of 13, Trim and her staff fan out daily into the downtown corporate world-introducing ancient breathing and stretching techniques to a surprisingly open-minded business world ("You mean Tiger Woods does it? Oh, it can make my golf swing longer?" Trim says with a laugh, indicating the growing mainstream acceptance of yoga by the golf-obsessed downtown core).
Trim and her team believe they are helping to bring health and happiness to the money-makers of Downtown Vancouver. But is any of that money coming back to them?
Not much, it turns out.
"Yoga is not the most suitable job if you're looking for a stable income," admits Trim. "If you're in this business, you have to be flexible month to month. During summer I have to drop a lot of classes. My intention is not to make money. My intention is to bring yoga to people who wouldn't normally seek yoga out in the first place."
Is there room for growth in the downtown market? "Yes and no. The downtown core is pretty saturated right now. If we're going to expand, we'll have to start moving outward."
At $7 per drop-in, Trim is offering a corporate service at distinctly non-corporate prices. While the scope of her business may have grown, her prices haven't-with the hope that more people might be willing to give yoga a try.
Still, with a staff of 13, a studio and a growing interest in yoga, why is the business so dicey? How much does it cost to run a studio? How much does it cost to run a class?
Marni Segal, another yoga teacher, was inspired by her sister's pregnancy to teach a pre-natal yoga class for eight weeks. After returning to her yoga-training school on Saltspring Island to learn the specialized approach, Segal rented a studio, sent out flyers, prepared her classes, found the appropriate props and recruited seven paying students for the eight-week course. At $100 per student for the class ($12.50 per one-hour class, per student-a reasonable, if not cheap, price), Segal was earning $87.50 each week. The studio rental (the most significant cost not accounting for training) worked out to approximately $57 per class, leaving Segal with total earnings, per week, of $30.50-not exactly a windfall.
"But I didn't do it for the money," Segal says, using a phrase the yoga world seems to have adopted as a mantra.
Trim calls the young teacher's path "Karma Yoga"-her phrase for starting out doing poorly paid work in community centres or smaller independent studios; earning your way up to a living wage. Morissette echoes the sentiment, believing teachers must patiently carve out their own niche in a growing market. Both feel strongly that the world of commerce and the world of yoga can fit together.
"I don't really change my yoga practice for the corporate world," Trim says. "There are so many kinds_. There are thousands of yoga poses-yoga is always different, always changing."
Morissette is comfortable with combining the values of yoga and the corporate world.
"Bring it on with commercialization and pushing a product," he says. "At the beginning, I struggled with it. Then I thought, 'why don't I embrace it?' As soon as I did, I realized I was stepping on my own two feet by not connecting the two."
Yet in a saturated market, there can only be so many high profile yogis, studios, and teachers. For every Morissette, there are hundreds of young aspiring instructors fighting their way through traffic to get to their third class across town. What sustains them, then, these life-style rich, money-poor yoga-pushers? What keeps them dragging their yoga mats from studio to studio, sweating out their days in front of their over-stressed but generally well-paid clientele?
Ettling smiles and sits back in her chair, our interview almost done.
"It's interesting that nowadays to write an article on yoga, you go to stores," she says, referring to my recent interview with Eric Peterson from Lululemon. "A hundred years ago, you wouldn't have gone to stores." She stops me from defending my approach. "It's not a bad thing. It's just interesting, that's all. It tells you something. Business looks for turnover, for product. Yoga works on a different level."
What level is that? At what point does "a different level" translate into "nothing to eat"?
"Most of what I earn goes back into my work-training, my studio-it's not a lot of money but it's a rich experience. I have the ability to practice in the field of my choice. Like artists, I chose this field to practise this discipline and I'm delighted to know I can sustain the work," Ettling says.
It's a philosophy distant from our modern business-focused sensibilities and Western model of success. While there are legions of underpaid yoga teachers throughout the city, struggling to make ends meet, exhausted by week's end, few of them seem to mind. Some are pushing the "practice" into marketing and business models, and finding success in both their spiritual practice and their bank, but the majority seem content to let their "practice" grow outside of financial considerations.
"When I first set up my studio," Ettling says, "there wasn't one discussion about how to run a business. More, we discussed how to teach the techniques of teaching. That was all."
That attitude might not wash in a conventional business. But for Louie, it suits her and her studio just fine.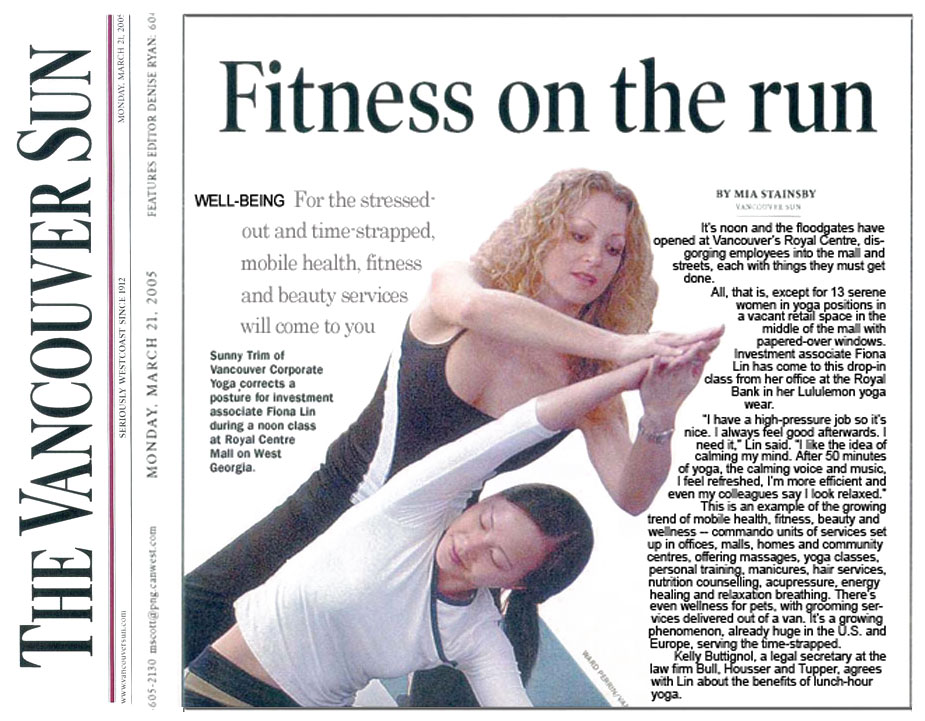 BODY & HEALTH 'Accessibility is the key to keeping fit'
"I sit at a desk all day and it's hard on my shoulders. When I finish and go back up the elevator, don't ask me to think! I'm so relaxed."
Her company pays for membership at the YWCA down the street, but this on-site class is too convenient to ignore. "I don't have to deal with the weather, I don't have to get all dressed up to go out. I change at the office and go down."
Sunny Trim, proprietor of Vancouver Corporate Yoga, leads the class for an hour. "No, I didn't make that name up," says Trim, who embodies her name in a Kate Hudson-like way. Her company goes to about 20 different buildings, both residential and corporate, delivering their yoga classes.
Reg Lenney, founder of Mobile Excape, offers 24-hour services to "people who don't have time." He has 300 as-needed professional at the ready for personal training, fitness assessments, nutritional counselling, massage, chiropractic treatment, yoga, stress-release programs, ergonomic evaluations and sports training.
The movie industry has helped the mobile services industry grow. Celebs like the privacy and personalized training of services that come to them.
Mobile Excape's celebrity clients have included Al Pacino, Alan Cumming, Ashley Judd, Brad May, Courtney Love, Halle Berry, Hugh Jackman, Kevin Bacon, Tim Robbins, Susan Saradon, and Robin Williams. And many clients are corporate executives who have equally demanding schedule.
"Some clients will phone and say they've got a half hour to work out, so come over right now," Lenney says.
"By the time I get there, they've got another meeting or they're on the phone, so I'll sit around an hour waiting for them." He or his staff travel with clients (sometimes in yachts, sometimes staying in hotels). Sometimes clients will call at 3 a.m. after returning from an overseas trip.
"We keep corporate executives stress-free so they can concentrate on their jobs," he says.
But Canada is still far behind in the mobile services industry, Lenney says.
"In Europe, health and wellness is a big part of their life. People seem to be more into 'show' here, trying to be 'L.A.' and more into outward appearances, with the house in West Van, Prada and Armani. We're only just beginning to learn to take care of ourselves inwardly, which is the most important.
"It's working it's way into the workplace, too," he says. "Employers realize that when they take care of staff, they do a better job."
At Beauty in Motion Mobile Spa, founder Robert Peacock offers haircuts and colour treatments, makeup applications, manicures, facials, massages and pedicures to homes, hotels and offices. Some clients want their makeup and hair done on the spot before they have to do a television interview.
"Driving, parking, crowded streets all affect the stress level," Peacock says. "What people appreciate is they don't have to stop what they're doing. They can continue to work or relax."
Prices are generally comparable to services in a salon.
"We exchange overhead for one-on-one service. We trade off volume for personalized service."
There has always been an underground market providing mobile services, he says.
"Students and recent grads from esthetics training might sell services under the table until they get their foot in the door."
At C-L Steven Fitness, owner Cari-Lee Stevens offers pilates, yoga, dance, fitness classes and even circuit training that she sets up in community centres, condo fitness rooms, or even outdoors, using trees and other structures for resistance training.
She also does yamuna body rolling. "You take a ball the size of a cantaloupe, and do a deep tissue massage with it. It helps to release the connective tissues which might tighten with injuries," she says.
"People sit in an office all day, then get in their car. We're becoming more and more sedentary. Accessibility is the key to keeping fit," she says.
"Having someone come to you is brilliant, really."
Vancouver Corporate Yoga | 604-267-9642
www.vancouvercorporateyoga.com
Hatha yoga and pilates classes for employees in corporate settings The company currently services about 20 locations, including Scotia Tower, Royal Centre and H.R. McMillan Space Centre.